Down at the river again. Matt and the big boys went back down to CT on Tuesday, so it's just me and Kit and Ella (and Honey and Lilly and the Fish) hanging out up here in the country.
I have been doing some gentle indoor painting, and every day taking Kit, Ella and Honey to the river to swim and play.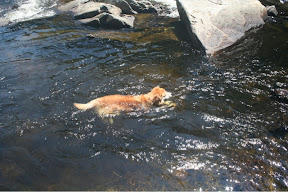 Honey can only be enticed into the water by throwing stones in...watching carefully for others' heads. Today we got her swimming into the current, and up onto the island where Ella loves to sit and play.
She has to heave and haul herself out of the water...all that fluffiness makes for heavy coat.
Me...well I'm not allowed to swim, although there is an underwater rock where I like to sit to cool off. And I'm quite happy (although hot) to listen to the rushing water, see the beauty all around and watch the big heavy afternoon thunder clouds roll in. We've been fortunate that only one other time has there been other people down there...it really feels like our little slice of heaven.
(And sorry for the repetitive photos, but it also is the only time of day I get my camera out.)
- Posted using BlogPress from my iPad