Yesterday I wasn't feeling so good. A late night phone call from my brother in Korea had me yawning, and you have no idea how much yawning hurts...it makes everything inside my throat swell. But it's probably the first time in 2 years that I've spoken with my one and only sibling, so it was good, even thought I barely slept.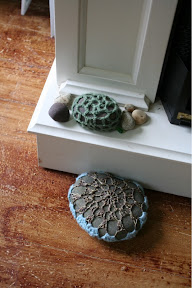 Anyway, it meant that yesterday was spent being very lazy and slow and sitting and crocheting (for a change from knitting) and I finally tried something I'd been wanting to do for ages. Yes! Covered rocks. I only had wool on hand and some old silk sewing cotton that I layered together, but oh what fun. I love collecting rocks...you know, the ones that just feel nice in your hands. We often come back from the river with one or two...maybe a bit of "sea" glass. And when they are woolly they feel even better.
I love how the crochet seems to replicate patterns in nature...spider's webs, shells and flowers. Definitely more of these will be done. In fact, kit and Ella went for a walk with Honey yesterday afternoon to collect some more for me.
I am so taken with the idea of yarn bombing/ yarn storming. I've been wanting to embed the YouTube video of the Belgian natural gas commercial where everything gets covered in knitting, but can't work out how to do it from my iPad. Hopefully you can look it up. Even this little vase of wildflowers got a little crochet cozy yesterday, but I forgot to take a photo. I could get very carried away with it all. As if my house doesn't have enough knitted and crocheted blankets everywhere...maybe I AM covering the house from the inside. But there is something so NICE, you know, about things covered in woollies...
Posted using BlogPress from my iPad