We've spent weeks working on just the front portion of the house: scraping back paint, pulling out old caulking, and often with it chunks of rotten wood which then have to be replaced or rebuilt using my magic wonder product ( see previous posts), then sanding priming and painting.
My big boys help a bit...Oscar doesn't like getting up the ladder, but he's good at moving it and holding it for me. Remi will climb anything, so he'll tag in for me for a while.
I actually haven't even finished preparing everything to be painted yet, but my shoulders were so sore from holding power tools above my head for days, that I needed a break...and well, painting is the fun part and it keeps my spirits up.
I've tried all morning to copy some "before" photos from my flickr "Vermont house" album directly into this post, but from my iPad, how to do this escapes me. Instead, you will have to go and have a look on flickr if you are interested. You can see the previous house colour in this photo...kind of a pinky brown. Really yuk!
I may have had a paint can falling from the top of the ladder incident, so it looks like I will have to paint all the foundations the same " French grey"...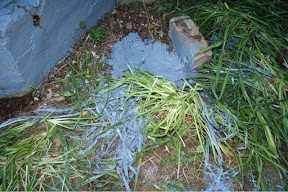 but when our realtor (who helped us buy this house and is now a neighbor and friend) stops by twice in one day to watch the progress and tells you how much she loves the colours and what an asset you are to the neighbourhood, you know you are doing something right!