The biggest treat for me this year was having an old school friend and her husband come and stay with us for 3 nights. I have to admit that there are very few people from school (despite what facebook says) who are truely friends that I have kept in real contact with. And Loretta is one of them. We were a group of 3 in grade 11, joined at the hip, and yet since then (she and our other friend were a year older than me and went of to art school, leaving me behind) we've really only seen each other a smattering of times. I went off to Norway for a year, her to the UK for longer. We moved to far flung places, she and her husband live in Dubai. But it doesn't matter. We totally connect like we saw each other yesterday....except for all the reminiscing.
We had a lovely time together, including them being dragged next door on the day they arrived for a party with neighbours- didn't matter, I knew she'd fit in.
And here's some of the lovely treats she brought us
Camel's milk chocolates
And pretty nougaty things (photos by Ella)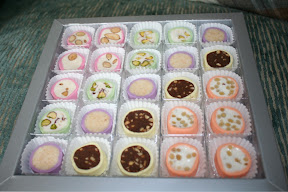 And these gorgeous slippers to put on my wall....
Does she know me, or what!?
Posted using BlogPress from my iPad