But first a photo Ella left on my camera...this amused me to no end! I can't look at it without a chuckle.
Ok, down to business. We started work on the path today. First some weed cloth... (all photos courtesy of Kit)
Then gravel
Then some very meticulous mini stone wall building. All those years of TETRIS may have finally paid off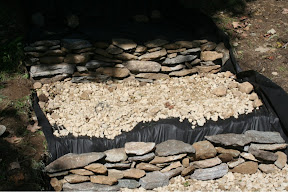 Then I had the big boys (including Matt do the grunt work of bringing the BIG rocks down from the quarry
And slowly but surely the steps started coming together (and yes that is my idiot 17 year old working with bare feet)
We managed to get about half the path done...but we ran out of gravel to fill in around the stones (and do more).
Not bad for our first go at laying a path/stone work. And we were mostly just winging it as we went...no idea how it will stand up to the winter here....